Learn everything you need to know about the most opulent residential communities that Riyadh has to offer in this comprehensive guide. Investigate the best residential compounds, each with first-rate amenities, verdant landscapes, and top-tier safety measures. Discover the house of your dreams right away!
Living in the finest compounds in Riyadh, you can get the most incredible experiences in terms of comfort, safety, and elegance. I have chosen a diverse selection of popular residential communities among expats, couples, and singles that provide their residents with first-class services and amenities, spacious residences, verdant surroundings, and excellent safety measures.
Do you Recently get a job in the Cultural Capital of Saudi Arabia? You need to Find the house of your dreams in one of Riyadh's most exclusive compounds and take your standard of living to entirely new heights.
List of Best Compounds in Riyadh
Get Fit on a Budget: Discover the Cheapest Gyms in Riyadh
"Affordable Car Rental in Riyadh: Find the Cheapest Deals & Discounts"
Al-Hamra Oasis Village
Al-Hamra Oasis village is located just by the 15 min drive away from the airport and from the main shopping centers, malls, movie theatres, and restaurants. It consists of a total of 404 residential units each with tasteful furniture and interiors with astonishing views. This compound offers 24-hour security services monitored by cameras. Al-Hamra Oasis Village is one of Riyadh's best compounds. Residential units range from 1-bedroom- to 5-bedroom executive villas, each with a private swimming pool. If we talk about education and facilities, it offers a wide range of good living facilities and benefits for its residents such as preschool, a British international school, Taxi, and bus services to major schools in Riyadh; as well as a state-of-the-art fitness Center, including 7 swimming pools, Restaurants, Recreation Center, Bowling Alley and so much more.
What residents say;
"One of the older but well-established compounds in Riyadh. No shortage of facilities here and the fact that it is well landscaped and away from all the construction that you find to the north of Riyadh is ultimately why we chose here. Villas are super spacious. The shopping center and international school is close by is a bonus if your kids go there. Gyms are excellent with air-conditioned tennis courts and basketball courts is welcome. Price is the price and it's pricey considering the age of the compound, but when you look at the complete offering I think is still attractive. The staff is super friendly. Security is not painful to deal with, which is a bonus. 4.5 stars" Ray Baksmati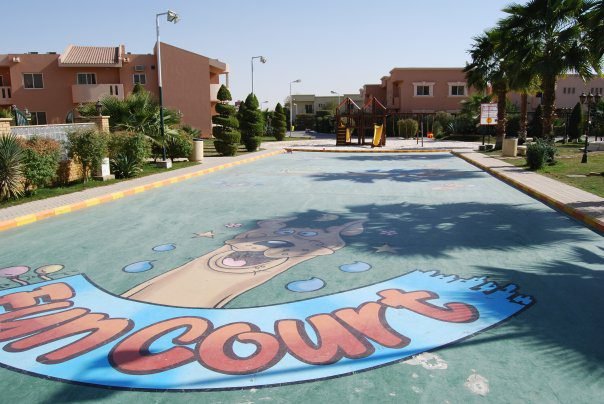 Address: Near British International School Riyadh, Dammam Branch Road, Ghirnatah, Riyadh =, Saudi Arabia
Arizona Golf Resort
Arizona Golf Resort compound is a renowned executive housing property like no other in Riyadh. Offering you the convenience & safety of gated living & the luxury of 5-star Resort Services & facilities. Beautiful newly-renovated, open-plan homes, lush green surroundings, distinctive facilities, and exceptional service and amenities, set Arizona Golf Resort apart as the premier executive housing community for golf and sports enthusiasts, nature lovers, and discerning guests.
Arizona Golf Resort units have Standard Villas, Premium Villas, 2 Bedroom Condominiums and, 3 Bedroom Condominiums.
Standard Villas consist of 3-Bedrooms, Downstairs Office or Conversion Room. Size: 233 m²
Premium Villas also got 3-Bedrooms but with an amazing Pool or Golf Course view and Basement. Size: 233 m²
2-Bedroom Condominiums includes kids' bedroom and Ground or Upper floor options, a perfect option for small families, couples, and singles. Size: 108 m²
3-Bedroom Condominiums have a luxurious Master Jacuzzi tub, and a large open-plan Kitchen, also with an option of having Ground or Upper Floor. Located within walking distance of their driving range. Size: 220 m²
Address: Opposite to Adidas and Nike Store Qurtabah، Prince Mohamed Bin Salman Road, Exit 8،, Riyadh , Saudi Arabia
Olaya Oasis Compound
Olaya Compound is located in the heart of Riyadh in the Olaya district, behind the real estate centers near the Kingdom Tower. A perfect residential Oasis with urban lifestyle amenities. It is one of the first residential Compounds in the Kingdom of Saudi Arabia by Al Akaria.
Apartments range from 143 Sqm to 241 sqm, with a total number of 971 apartments and 10 gates
Types of Units:
Apartment (Includes Family Room), 2 Bedroom, Area – 143 sqm, Rent – (SR)71,000
Apartment, 3 Bedroom, Area – 143 sqm, Rent – (SR)71,000
Apartment (Includes Family Room), 3 Bedroom, Area – 193 sqm, Rent – (SR)81,000
Apartment, 4 Bedroom, Area – 193 sqm, Rent – (SR)81,000
Customer Reviews:
"An integrated complex in which the first health gathering is located. There is also an outlet for most brands" By Balkeis Ballkeis.
"Good compound with reasonable rates but old buildings and they have super good staff for maintenance" By Tareq Saleem.
"Good secure family compound next to the CBD of Riyadh. It is expensive for Riyadh and is beginning to show its age. It looks tired due to lack of proper maintenance by the management company." By Zulf A.
"Great location. In close proximity to the two giant hyper stores. Lots of eat-out places at walking distance. Inside: spacious rooms, society club, Squash court, Gym, Swimming Pool. Etc" By Prashant Pratap S.
Address: Opposite Al Jazeera Hypermarket Al Muhandis Masaid Al Anqari, Al Olaya, Riyadh, Saudi Arabia
Vives Compound
Want a luxurious, comfortable, and safe home? Check out the Vives Compound!
The luxury Vives Compound was designed for tenant comfort. With a combined area of 180,000 sqm and a variety of layout sizes and types for luxury living, the compound caters to everyone from the discerning individual to the modern family. Vives Compound's family-friendly villas are a highlight. The villas have all the amenities and strike the perfect balance between living and nature. You and your family are safe in the compound's top-tier security.
Vives Compound offers family-friendly luxury living. A Montessori preschool, walking paths, entertainment centers, and health and wellness facilities make life easier.
Vives Compound offers 290 modern and fully-equipped residential units, including one-bedroom apartments and villas. The compound also features landscaped gardens that provide a serene and peaceful environment to live in. Vives Compound units are carefully managed and maintained to ensure your comfort and convenience, making it the perfect place to call home.
In conclusion, Vives Compound is a masterfully designed compound that has everything you could want in a home – luxury, comfort, security, convenience, and family-friendly lifestyle amenities. If you're looking for a high-end residential complex that offers a perfect balance between indoor and outdoor living, Vives Compound is definitely worth checking out.
If we take a look at the common service area so there is plenty of them like it have Starbucks/Coffee shop, TAMIMI express supermarket, BBQ Station, Entertainment center for adults, Lounge area, 65000 SQM Green Area, Nursery smart kids Montessori, EV charging Stations, etc.
Address: Near Tamimi Market Imam Abdullah Ibn Saud Ibn Abdulaziz Road, Al Janadriyah, Riyadh, Saudi Arabia
Murooj Village Compound:

Al Murooj village Compound, with a 30000SQ. area of 60+ units' compound located in Al Salam district, Hofuf, in the new offices Government offices zones ( Al Ahsa municipality, Saudi post, Civil Affairs ) with direct access to Riyadh and Dammam Highways. The prime location of this Compound Village gives access Al Ahsa Airport at just 10 minute of drive and Hofuf Train Station is a 5 minute drive. The compound offers 60+ units, one-storey villas, two-storey villas, two-bedroom apartments, and one-bedroom apartments. If we take a look at the facilities and services that this compound offers then this compound is uniquely equipped with all types of modern facilities for all family members including green spaces, an indoor swimming pool, playing courts, and an air-conditioned clubhouse (Recreational Center) which has a fully equipped gymnasium, Billiard pool table, table football game, lockers, toilets, Jacuzzi, Sauna, Steam Room, and multipurpose hall.
All units are fully furnished with modern brand new furniture and electrical appliances, and equipped with fire alarm (Smoke and Heat) connected to the main panel. Security services are also quite well, with a high fenced wall with a height of around 4 to 6 m, checkpoints, and Double entry and exit gates which are built bulletproof with road blockers and CCTV Cameras and the compound is surrounded by jersey barrier blocks.
In case of Fire the compound is equipped with fire fighting hoses connected to the main fire fighting pump which is an automatic operation sequence between electric or diesel operation, Fire extinguishers are provided to all Villas.
Maintenance Staff Availability, Pest control services, satellite cables, and high-speed internet services are available.
Address: Opposite Movenpick Hotel Abi Al Abbas Al Yamani, Al Muruj, Riyadh, Saudi Arabia
Types of Units:
1 Storey, Fully Furnished Villa, 3 Bedroom, Area – 160 sqft, Rent – (SR)230,000
2 Storey, Fully Furnished Villa, 3 Bedroom, Area – 220 sqft, Rent – (SR)265,000
Fully Furnished Apartment, 1 Bedroom, Area – 40 sqft, Rent – (SR)115,000
Fully furnished Apartment, 2 Bedroom, Area – 120 sqft, Rent – (SR)155,000