Orthopedics is a specialty of medicine that focuses on diagnosing, treating, rehabilitating, and preventing injuries and disorders of the human musculoskeletal system. This intricate system is comprised of bones, joints, ligaments, tendons, muscles, and nerves. It is the system that enables any living being to move.
Until recently, orthopedics was mainly concerned with the treatment of children with spinal or extremities malformations. Orthopedics may now treat patients of every age, from newborns with clubfoot to sportsmen requiring arthroscopic surgery to older folks with arthritis.
The orthopedic doctor is in charge of treating motor system issues. The orthopedist is an expert in:
Diagnosis of motor system injuries or disorders
Treatment options include medications, exercises, and surgery.
Establishing exercise routines or physical treatment to regain mobility, strength, or function of an extremity.
Preventing injuries and delaying illness progression requires information and treatment plans.
Orthopedists, like any other medical professional, are trained to provide general care, but they can also specialize in a specific limb, such as the foot, hand, shoulder, spine, hip, or knee, as well as pediatrics, trauma, or sports medicine.
What treatments does an orthopedic surgeon perform?
An orthopedist treats congenital disorders and complaints caused by an accident, illness, wear and tear, or excessive exercise. To determine which condition you have, discuss your complaints with the orthopedist and the orthopedist will examine you physically. Based on this, he determines whether you need an additional examination. The orthopedic surgeon can use various additional investigations such as an X-ray, ultrasound, MRI, or CT scan. These tools help the orthopedist make a diagnosis. The orthopedist will then determine which treatment is right for you. Depending on your complaint, the orthopedic surgeon will decide whether you need pain relief, physiotherapy, or surgery, for example. Two types of treatment are possible:
Conservative treatment (without surgery), for example:
Prescribe physiotherapy or pain relief in the event of an injury or strain.
Applying a splint to (temporarily) rest a joint.
An operative treatment, for example:
Placing or replacing a worn joint, for example, a hip prosthesis.
Recovering from a shattered ankle.
Keyhole surgery is to make a precise diagnosis or to treat a meniscal tear.
Dr. Muhammad Ashraf Awais
Dr. Muhammad Ashraf Awais is a well-educated and experienced orthopedic surgeon who has worked around the world. He received his MBBS from King Edward Medical University Lahore Pakistan and his FRCS from the Royal College of Surgeons in Ireland. Dr. Muhammad Ashraf Awais can speak Hindi, Urdu, English, and Arabic very well. He has over thirty years of experience in Trauma and Orthopedics. From 1985 to 1992 he worked as an Orthopedic in the Republic of Ireland and England. He worked in Pakistan as an Assistant Professor, Associate Professor, and Consultant Orthopedics for 10 years at Allama Iqbal Medical College and Jinnah Hospital Lahore Pakistan. Most recently, he has worked in Saudi Arabia for the past 12 years as a Consultant Orthopedic Surgeon at Sulaman Habib Al-Iman and Aster Sanad Hospital.
Dr. Awais offers a range of clinical expertise and services related to orthopedics such as Trauma, All Fractures of Upper Limbs and Lower Limbs Including Hands and Feet, Closed and Open Reduction of Fracture, Intra-medullary Nailing Tibia, Femur and Humerus, Elastic Nailing in Children's Fracture, Haemic Autoplasty, Compression and Clocking Plating, External Fixate in Open Fracture, Excision and Removal of Benign Tendon Sheath, Excision of Ganglion Release of Tendon Sheath, Repair of Tendons Also Corrective Surgery of Polio Cases, and Diagnostic Orthoscope.
Book an Appointment with Dr. Muhammad Ashraf Awais
Dr. Abdullah Albazzaz
Dr. Abdullah Albazzaz is a Kuwaiti Board certified orthopedic surgeon with a specialization in hand and microscopic surgery. He completed his fellowship in hand and microscopic surgery from Yamaguchi University in Japan. His clinical expertise is focused on diagnosing and treating fractures, carpal tunnel and cubital tunnel syndrome, hand tendinitis, trigger finger, Dequervain's Tenosynovitis, carpal and hand fractures, hand tumors, congenital anomalies of the hand, as well as cut tendons or nerves of the upper limb. Dr. Abdullah Albazzaz is also known for his ability to create customized treatment plans for his patients which helps ensure the best possible outcomes. He believes in educating his patients about their conditions and treatment options so that they can make informed decisions.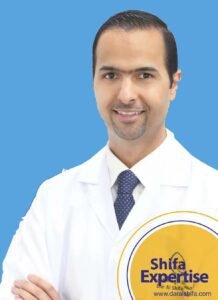 Dr. Albazzaz provides exceptional care and has a compassionate and empathetic demeanor toward his patients. He loves researching and expanding the world of orthopedics. His academic achievements and desire to give his patients the highest care make him one of the most respected surgeons in the community. Dr. Albazzaz stands out for his passion to provide the best care and help his patients by sharing knowledge.
Book an Appointment with Dr. Abdullah Albazzaz
Dr. Essam Mahmoud Ajaj
He is a Syrian Orthopedic Specialist who specializes in the treatment of fractures and dislocations of the upper and lower limbs, including hands and feet. He also provides different types of fixations such as external fixation, elastic nails, locking plates, or intramedullary nail. Dr Ajaj can manage shoulder, elbow, knee, ankle, and foot pain management, and he also provides treatment for tendons and muscle injuries, as well as sports injuries. He completed his residency and orthopedic surgery residency in Syria and went on to become an orthopedic resident doctor at the Director of Health Affairs Taif, KSA, from 2009-2011. Later, he became an Orthopedic Specialist at the Aster Sanad Hospital in Riyadh, KSA. Dr. Ajaj is fluent in both English and Arabic.
Book an Appointment with Dr. Essam Mahmoud Ajaj
Dr. Majeid Ghaderi
Dr Majeid Ghaderi is an Orthopedic Specialist at the Orthopedic Surgery Department. Dr. Ghaderi received his Facharzt German Board, Fellow of the Professional Association of German Surgery (BDC), Fellow of the German Society for Orthopedic and Trauma (DGOU), and Senior Surgeon in Arthroplasty (Endocert Certificate).
Dr Ghaderi's clinical areas of practice include performing surgeries for bone fractures of upper and lower limbs, and spine, as well as periprosthetic surgeries. He also specializes in primary and revision arthroplasty for the hip, knee, shoulder, ankle, and elbow. Dr. Majeid is well-versed in arthroscopic operations for the shoulder, knee, and ankle. He has also treated many sports injuries such as ACL, Rotator cuff, Carpal Tunnel Syndrome, and Trigger Finger. He is an expert in treating foot deformities through osteotomy and conservative treatments.
Book an Appointment with Dr. Majaid Ghaderi
Dr. Taha Takroni Abdelghaffar
Dr Taha Takroni Abdelghaffar is a doctor who is specialized to help with problems related to human joints, muscles, and bones. He studied in very good schools like the University of Khartoum and the Royal College of London. If you have any discomfort, pain, or injured muscles, bones, or joints then Dr Abdelghaffar is there to help you.
He will test you to see what exactly the problem is and give treatments to make you feel better. He offers physical therapy and surgery too if necessary. Dr Abdelghaffar is very kind and he will be your friend to help you get better. So if you feel hurt or unwell in any part of your body related to muscles or bones, don't hesitate.